Living in the Pacific Northwest, we are extremely lucky to be surrounded by the aesthetics of nature. There's nothing better than taking a hike with family or friends and enjoying the vast nature Oregon has to offer. For this reason, we want to share some of our favorite hikes. We challenge you to take a picture and hashtag #moehikes on your social media pages!
Cascadia Head Trail
Cascadia Head Trail is easily one of the best trails to visit. In total, the hike is about 7 miles roundtrip with an incredible view of the ocean. From a pivotal point, you get a wide view of the ocean, mountains, clouds, and the nature surrounding you. The hike is also great for kids for a family adventure.
Blue Pool
Blue Pool is Oregon's hidden gem! The hike is moderate at about 4 miles roundtrip. Blue Pool is where the Mckenzie River emerges after submerging into a lava tube creating Tomolitch Pool. Take a swim in the chilly pool and have a great time enjoying fantastic views!
Opal Creek Trail
Opal is Creek Trail is almost 7 miles there and back. It has amazing views of waterfalls and you can even jump into the water! The amazing part about the Opal Creek Trail is its accessibility all year round. Set up a picnic and enjoy the ambiance of Oregon's nature.
Smith Rock
Smith Rock is one of the best places to visit in Oregon. Due to Covid-19, Smith Rock has reduced a few of its trails. The park remains open with a trail that loops around the park and you still get to see the iconic "monkey face" rock statue.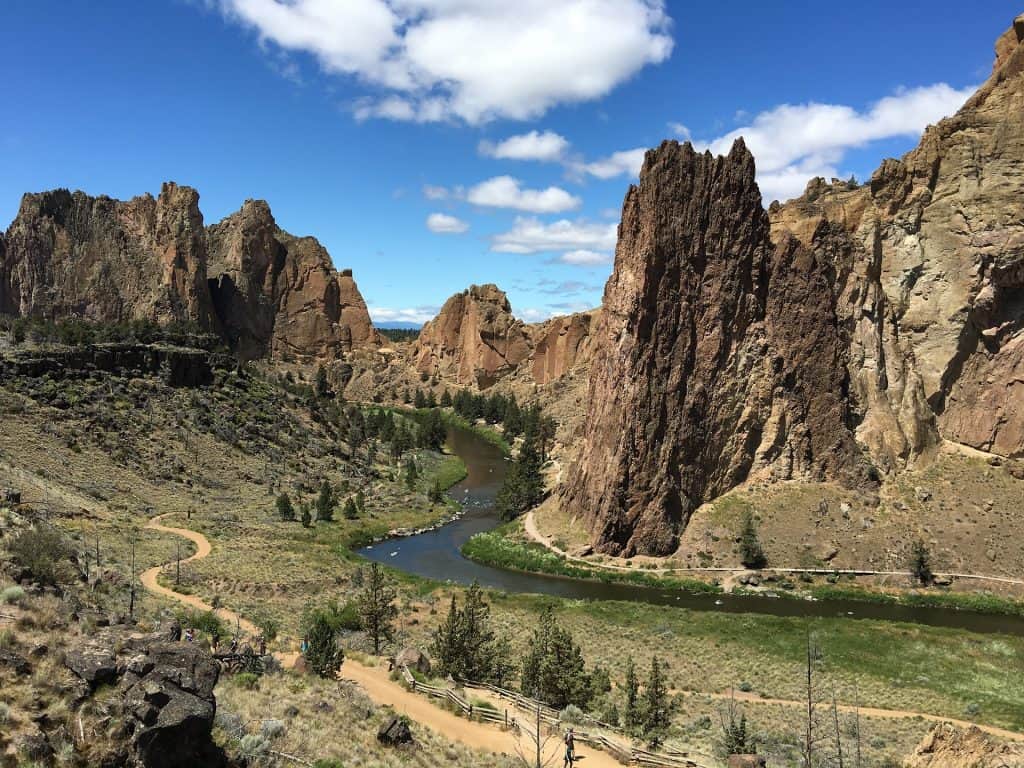 Mcneil Point Trail
This Hike is not for the faint-hearted, about 9 miles long the trail gives you a perfect view of Mountain Hood. Dogs are allowed on the trail with a lease. Take a day to disconnect from the world and spend it at Mcneil Point Trail!
Tips & Tricks!
Always leave your home super early! Beat the morning crowd and find the best parking.
Stay hydrated: bring ice-cold water, you'll thank us later.
Snacks: fruit, chips, beef jerky, or anything that will stay fresh.
Beer: bring a cold beer in a special hydro flask container that will keep it cold, crack open the beer at the viewpoint and enjoy a nice buzz as your dehydrated and hungry!
Don't forget hashtag #MoeHikes on your social media pages so we can see your hiking adventures!